Litters will be evaluated for breeding kittens first and then pet kittens will be chosen in order of deposit received.  Once my waiting list has been taken care of (I am no longer taking deposits ahead of time) kittens will be offered to whoever is first to put down a deposit.
Please note:  I can ship kittens in cargo with Air Canada April 1 through October 31, any kittens ready to go in the winter will have to be picked up in person.  If you wish to fly in to get your kitten I would be happy to meet you at the airport.
To ship a kitten Air Canada is currently charging $258 for a small kennel shipped within Canada, a kennel costs $50, and a pre-flight vet check is $35.
Included in the purchase price of your ragdoll kitten:
-Vet Check-up
-Two sets of vaccinations and multiple wormings
-TICA registration form (blue slip)
-Health guarantee (contract)
-Microchipped (to activate and register the microchip in your name with Viaguard will cost you $19)
-Food sample (I am feeding Royal Canin kitten, Orijen chicken, and canned friskies)
-Toys (I am not able to include toys for any kitten that is shipped in cargo)
-Baby album of pictures
-6 weeks free pet insurance with breedsecure and/or 30 days free pet insurance with trupanion
Optional:
-We are able to do early spay/neutering for you.  Cost will be added to the purchase price.  Currently a spay costs $190 and neuter is $100
 
Coming Litters:

Lacy x Jack due the end of November

Tiger Lily x Prince have 6 kittens born September 4th.  4 boys and 2 girls.
Kitten 1 – Blue lynx bicolor boy – On hold
Kitten 2 – Bicolor girl – On hold
Kitten 3 – Mitted lynx boy - Reserved for Christina
Kitten 4 – Bicolor boy - Reserved for Dylan
Kitten 5 – Seal mitted lynx girl – Reserved for Laureen
Kitten 6 – Seal mitted lynx boy – Reserved for Liu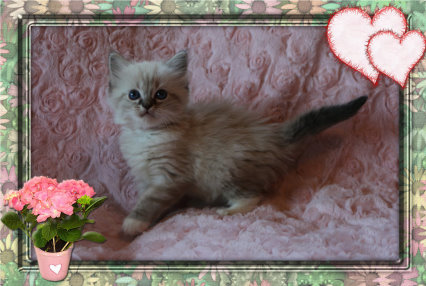 Pet Kitten List (in order of deposit received):
Breeder reserves first pick of any litter! All breeding kittens are reserved before pet kittens become available
Vivi
Wency
Christina
Erika
Elva
Jeannie
Charlene
Liu
Deposit rec'd but not ready yet (to notify me when ready!):
Dora
Sandra
Larissa
Abby
Ling
Jasmine
Eugenia
Logan
Kelsey
Laurie
Shujin
Yuqing
Xiaoyi
I am no longer accepting deposits and will not keep a waiting list after my current list is taken care of.  Kittens will be on my website, If listed as "available for reservation" the first person to put down a $100 deposit (non refundable) will get to reserve that kitten.
Waiting List for Breeding Quality
I do not accept deposits ahead of time on breeding kittens.  All kittens will be on evaluation the first 8 weeks or so and any breeder interested in any of the kittens can contact me.  Once you reserve a particular kitten I will require a non-refundable deposit of $500 to hold that kitten.